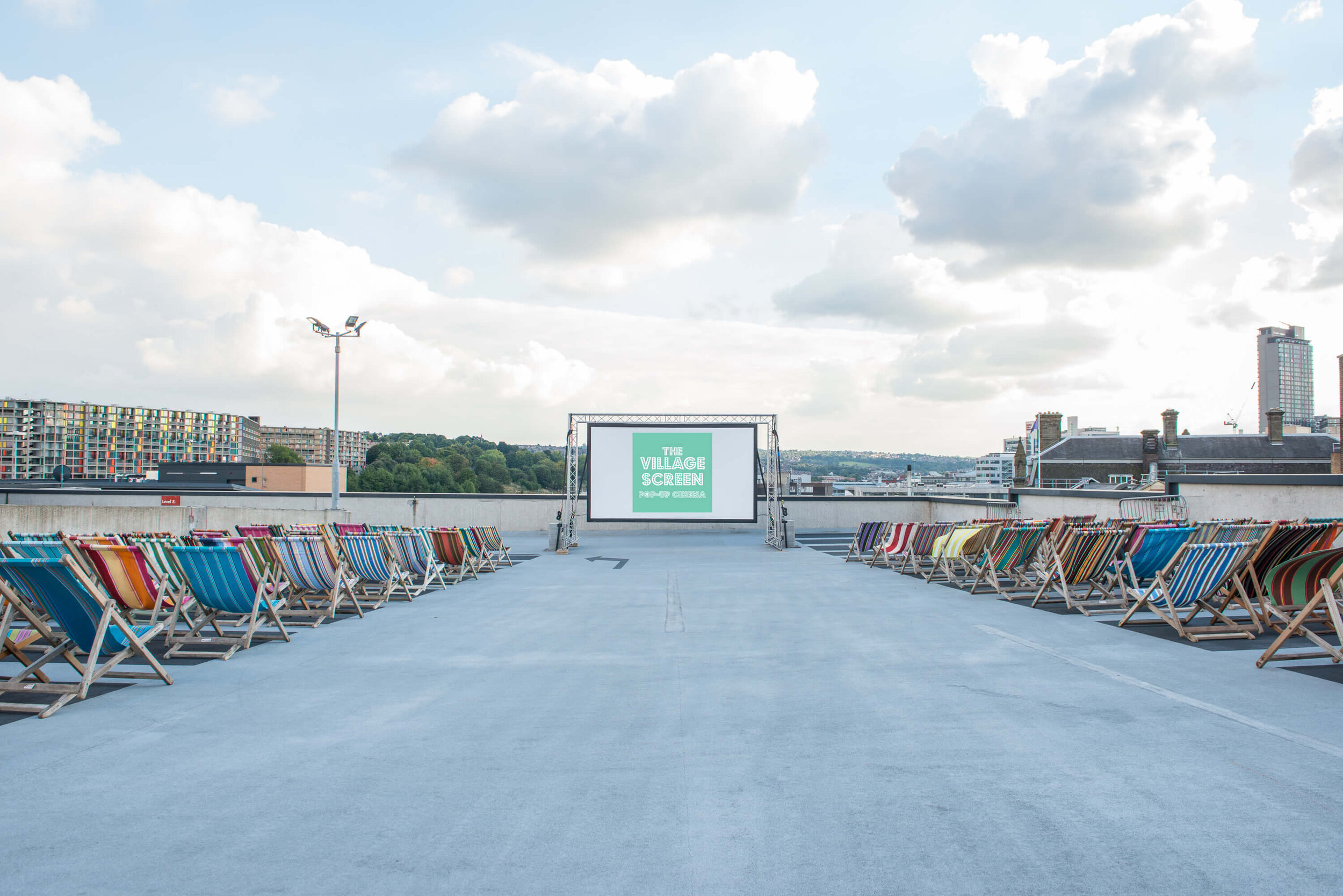 The Village Screen: Drive Thru Cinema Tickets and Dates
More Information about The Village Screen: Drive Thru Cinema
FAQs - Drive Thru Cinema at Gulliver's Valley
Important Information about COVID-19
The safety of our attendees is always our number one priority, so we've put a detailed plan together to ensure that all health and safety aspects of these events, including COVID-19, are properly managed.
We expect attendees to adhere to the latest government guidance when attending our events, to keep everyone safe. This includes only attending with members of your support bubble and social distancing with those outside of your support bubble. We also ask that you do not attend the event if you are displaying symptoms of Coronavirus, if someone within your support bubble is displaying symptoms or if you have been asked to self-isolate.
To ensure that you are fully prepared ahead of the event, we have included some key pointers for you below:
• Please stay inside your car unless you need to use the toilet facilities.
• Please wear a mask when using the toilets facilities.
• Any convertibles must have their roof in place for the event.
• For social distancing purposes, please only open the driver's side window.
• There will be handwashing facilities onsite, but please bring sanitiser with you for extra safety
• To avoid cross-contamination, please take any rubbish away with you
If we have to cancel these events due to COVID-19, we will notify attendees as soon as possible and you will be able to attend a rescheduled date, or you can request a face value refund on your tickets. Face value is the cost of the ticket price excluding the booking fee or any ticket protection insurance that has been paid. If you have any questions regarding the safety of this event, please email us at hello@thevillagescreen.com and we'll do our best to help.
How do I contact customer services?
any queries relating specifically to the event, please contact hello@thevillagescreen.com or 07377 449730. For any queries relating to tickets, please contact See Tickets
here
Will I receive a physical ticket(s)?
You will receive an online booking confirmation email with your tickets attached from See Tickets. If you haven't received your tickets, please go to www.seetickets.com/customerservice to request your tickets to be emailed to you. You will be required to enter your car registration number when you purchase a ticket. You must come to the event in this car as this is how we will verify your arrival. If you need to change your car registration details, you can do so by visiting
here
at least 24 hours before the event start time. If you need to change your details within 24 hours of the event, please email us at hello@thevillagescreen.com or call us on 07377449730.
Will there be parking?
This is a drive-in style cinema and therefore all attendees must attend the event in a car. All cars will be parked on a hard-standing car park within the grounds of Gulliver's Valley. Our staff will show you where to park on arrival. Please note that cars will be allocated a parking space based on size, with bigger vehicles positioned towards the back. Once parked, you will not be allowed to leave your allocated bay until the end of the event. Our parking stewards will let you know when you are able to exit the site.
How many people can I bring in my car?
The ticket price includes admission for one car into the event space. You can bring as many people as you want in one car, but we advise that this event is perfect for two people sitting in the front and two people sitting in the back. However, please note that those seated in the back of the vehicle may need to adjust their position so that they are not obstructed by those in the front seats.
Will you be serving food?
We will be offering a delicious food and drink delivery service to your vehicle. All food can be pre-ordered via an app up to 24 hours before your event start time (see 'how do I pre-order food and drink' below for details). Pre-ordering food helps our food vendors work out how many orders they need to prepare in advance of each event to reduce food waste. For health and safety purposes, please take your rubbish away with you after the event.
Will you be serving drinks?
Yes! Drinks can be ordered at the event via an app. We will give customers a leaflet on arrival with further instructions on how to use the app.
How do I pre-order food?
You will be able to pre-order food via an app, which we will email you the details of by Thursday 25th March. You will be able to pre-order food up to 24 hours before your event start time. When you arrive at the event, we will inform the food vendor of your arrival. They will then start to prepare your order and deliver it to your car as soon as it is ready. You can also use the app to order drinks and snacks during the event. Our delivery staff will pass your food and drink orders to you, through the driver's side window.
Can I leave my car engine switched on during the event?
We ask that all cars switch their engines off once they are parked at the event. We also ask that you turn your exterior and interior car lights off once the film has started. We appreciate that it may get cold, so you can switch your engines on to de-steam your windows, but please only do so if necessary and please ensure that you switch your lights off (we suggest checking how to do this for your vehicle type before attending the event). We recommend opening a window to help prevent your windows from steaming up, but make sure that you wrap up warm and bring blankets, cushions and hot water bottles with you. It might also be useful to bring a cloth so you can wipe condensation from your wind screen.
How will I listen to the film?
We will provide every car with a sanitised wireless speaker on arrival. We will set each speaker system up and switch it on before we give it to you. If you have any problems with the speaker, please call the number provided on the leaflet and a member of staff will help you. We will collect the speakers from you on exit.
What should I bring?
Bring your E-tickets with you. Please also bring your iOS or Android device so you can access your food and drink orders via the online delivery service. Please see 'How do I pre-order food and drink' above.
What if it is raining?
The cinema screening will take place on a hard-standing car park and will go ahead come rain or shine. In the unlikely event that weather conditions present a danger to attendees and staff, we will notify you as soon as reasonably practicable and we may need to reschedule the event.
What if I am a wheelchair user?
This event is accessible to wheelchair users. There will be disabled toilets located inside Gulliver's Valley. If you are a wheelchair user, please email us on hello@thevillagescreen.com so that we can reserve you a suitable parking spot at the event.
Will you refund my ticket purchase?
We do not offer refunds on ticket purchases. However, if we have to cancel this event due to restrictions imposed by the Government in relation to Covid-19 then a face value refund will be offered. A face value refund is the cost of your ticket minus any booking fees or ticket protection insurance that has been paid. If you have purchased ticket protection insurance through See Tickets, then you will need to refer to the T&Cs for that insurance to make a claim.
Will there be toilet facilities?
Yes, there will be toilet facilities located inside Gulliver's Valley. Please wash your hands before and after using the toilets and adhere to the queueing systems which will be signposted.
Will this film have subtitles?
This film will not be subtitled, however you can download the app 'Subtitles Viewer!' on the app store for free. This app enables you to download the film's subtitles onto your device, which you can use whilst watching the film. Please get in touch with us on hello@thevillagescreen.com if you would like any further information about this.
Do I need ticket protection?
When purchasing tickets, you will have the option to add ticket protection at an additional cost. Please bare in mind that ticket protection is sold by TicketPlan, and is a completely separate entity to The Village Screen. We have no control or influence over their T&Cs. We strongly recommend that you read the T&Cs before purchasing ticket protection to ensure you fully understand the terms of the agreement. Please note that your ticket protection may not be refundable, particularly where we need to cancel an event due to restrictions imposed by the government in relation to Covid-19. For more information please
click here.